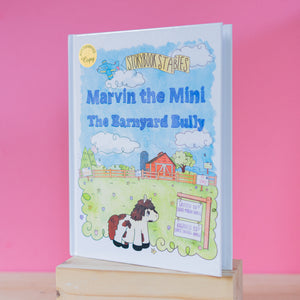 I illustrated a children's book! ⁠Marvin the Mini, the first adventure in the land of Storybook Stables, is the beloved brainchild of my mother in law, Debbie Morgan Harris. 


About the Book
All the horses of Storybook Stables are excited to meet the latest addition to their herd. As Marvin the miniature horse arrives in a trailer, the horses think he is the tiniest and cutest horse they have ever seen. Unfortunately, Marvin is not as excited to meet them as they are him. Every time one of the big horses approaches to welcome him, Marvin frowns, backs his ears, shows his teeth, and charges. When the big horses grow tired of his rejections and decide to leave him alone, Marvin calls the horses names, treats them badly, and bullies them into giving up their grass and water. Will the caring herd ever find a way to teach Marvin a lesson in kindness and friendship? Marvin the Mini: The Barnyard Bully is the delightful tale of how a little horse with a big attitude learns a valuable life lesson from his new herd. Based on stories of real horses once boarded at Cherry Point Saddle Club, aboard MCAS Cherry Point, Storybook Stables delights readers with whimsical and heartwarming stories of what can happen if you only take time to watch and listen to what the animals might be saying and the lessons they could be trying to teach. For an added touch of whimsy and fun, see if you can find the unicorn hiding somewhere in the book! Illustrator, Laurie, says everyone could use a few more unicorns and rainbows!
---
Debbie Morgan Harris is a graduate of Auburn University, retired educator, wife, mother of two, grandmother of two, and a friend to seven beloved horses, who have, at some point during the past thirty years, touched her heart and become part of the family. Through the years, she and her family, have watched and listened as the horses and other pets "talked" to each other and has now set out to give voice to those horses and share the sweet stories they seem to tell. Harris grew up in Alabama dreaming of horses and riding neighboring horses until following her high school sweetheart to duty stations in California, Okinawa, Japan, and, eventually, eastern North Carolina, where she currently resides. There her dream of having horses became a reality. As she tells so many children who dream of having a horse … "Don't give up on that dream. It can happen. I didn't have my first horse until I was twenty-seven years old, but I held that dream in my heart until it happened … at just the right time, in just the right place."
Learn more about Debbie here.